> Nautical computer products
Laptop on board
We used two computers on board. A small 12V DC computer and a laptop computer. The 12V DC computer was connected to a 15 inch flat screen and used for the children. The laptop was used for communication with the SSB radio for e-mail and weather reports (grib). The laptop was mounted seaworthy on a special bracket called the Slide&Fix Regatta.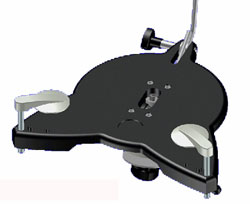 We designed the Slide&Fix laptop clamp in the Netherlands in the year 2000 just for one reason, to make sure the laptop will not fall of the charting table during transit. We already soled 5000 units for boats and cars in Europe. We even got a patent in the year 2002 for our idea.

Are you interested in the unique Slide&Fix laptop clamp, send us an e-mail and we ship a clamp to you, where ever you are. Prices start at Euro 199,- Excl. shipping.
Connecting the laptop on board
Connecting a laptop on board can be rather difficult. For our vessel we designed a practical piece of equipment, by which notebooks and laptops can easily be connected to your vessel. Without making a mess of your charting table.

Highlights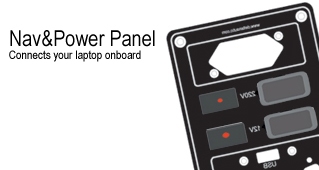 Easy to install. (max. 2 hours)
Totally wired. (Option)
Switches with ledīs.
A practical safe solution.
Protects your expensive hardware.
Heavy duty outlets 12/24/110/ 220V.
Connect all your navigational
instruments to the panel like the auto
pilot, wind and depth sounders.
Equiped with serial connector for all
NMEA input like a GPS and Radar.
USB connection for up to 8 Serial
connectors and USB hardware.
Audio connector for receiving weather
fax and Navtex messages.
Prices start at Euro 175,- Excl. shipping.